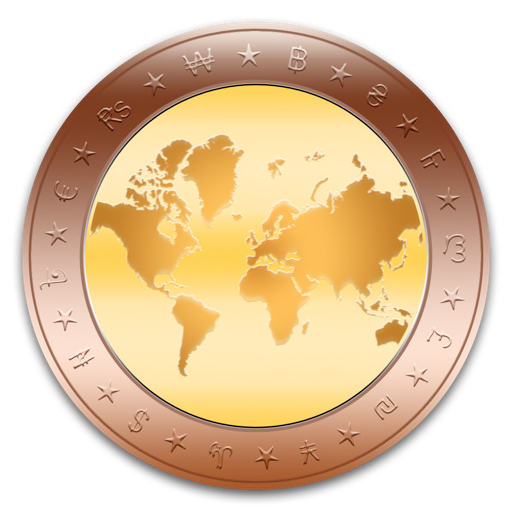 Currency Assistant 3
Convenient currency conversion.
Latest version is 3.6.2 and requires macOS 10.11 or later (including macOS 14 Sonoma)
Often work with foreign currencies? Frequently travel abroad? Currency Assistant is what you need.
Currency Assistant is a handy and very flexible currency conversion calculator that lets you convert between 174 world currencies and automatically updates exchange rates over the Internet. With Currency Assistant you can easily create multiple converters and manage currencies, convert series of amounts, calculate and convert the result of expressions, and log, save, export, and print your conversions.
Multiple converters for maximum flexibility.
Currency Assistant lets you create as many conversion windows as you need. Each of them can contain up to 24 currencies and has its own tape to log conversion results.
Converters are very easy to set up or edit, have an Action menu to rapidly accomplish recurrent tasks and a Rate menu to view or copy exchange rates, and can be closed when you don't need them so that they aren't in your way.
Currency Assistant speeds up calculating conversions. You can copy multiple amounts from Numbers or Excel and paste them to an input display: Currency Assistant will automatically convert the pasted amounts and log results in the tape.
Equivalently, you can import plain text files, RTF files, Word documents, OpenDocument text files, web archives, HTML files, and text clippings containing series of amounts and automatically convert the enclosed values.
And, if you need to convert the result of a calculation, simply type an expression and press Return: Currency Assistant will calculate it for you and convert the result.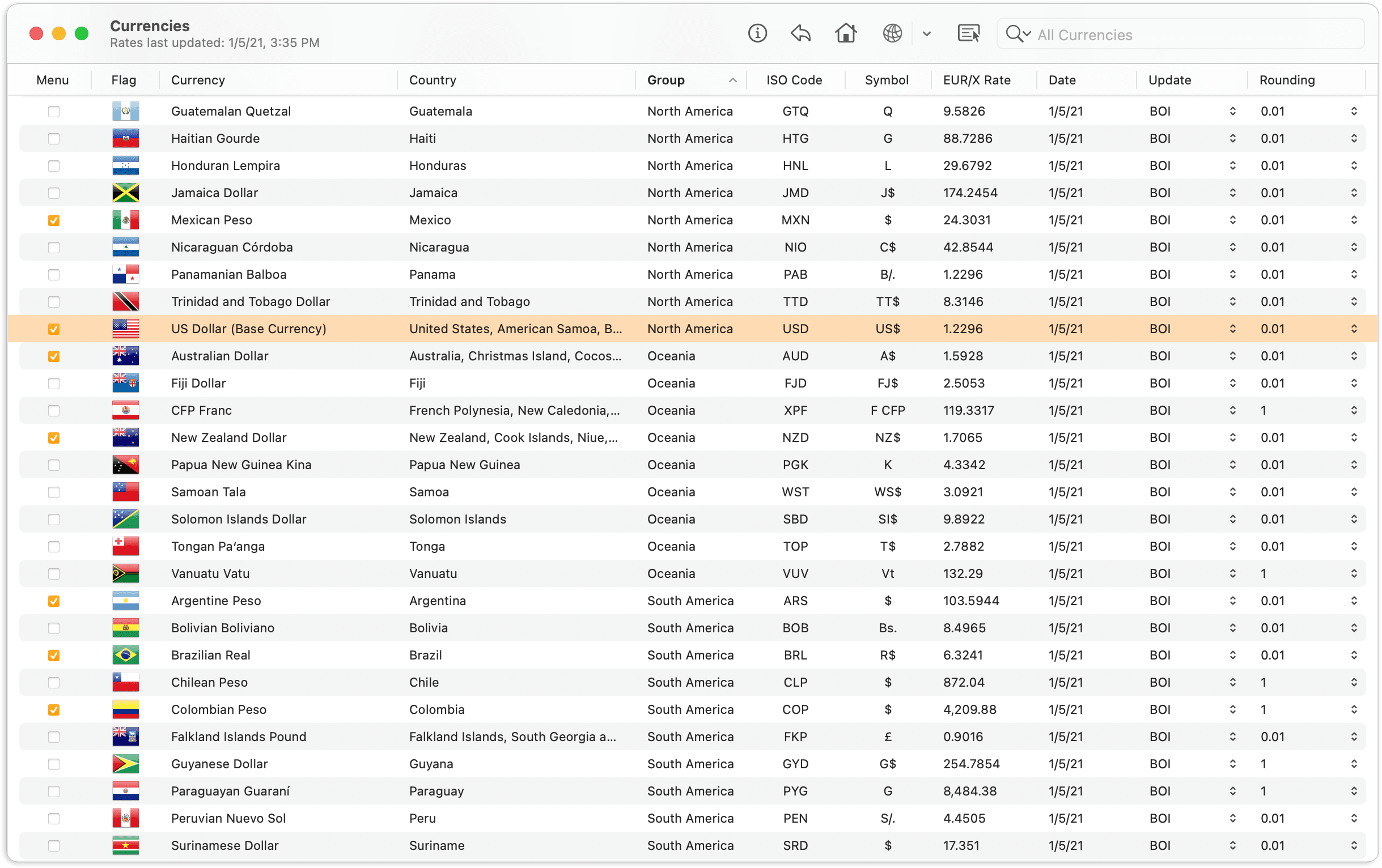 Currency management made simple.
The Currencies window lists 174 currencies (all major circulating currencies plus the 20 Eurozone legacy currencies) and lets you easily perform currency management tasks.
You can edit or restore currencies, set your base currency, automatically update exchange rates over the Internet, and customize the Add Currency and Switch Currency menus. In addition to that, the Currencies window lets you sort, search, and batch edit currencies.
Fast access to frequently used currencies.
The Add Currency and Switch Currency menus let you quickly access frequently used currencies.
Currency Assistant allows you to fully customize these menus: you can choose which currencies are displayed, add separators, arrange items manually or automatically group currencies, and sort them by name, country, or ISO code.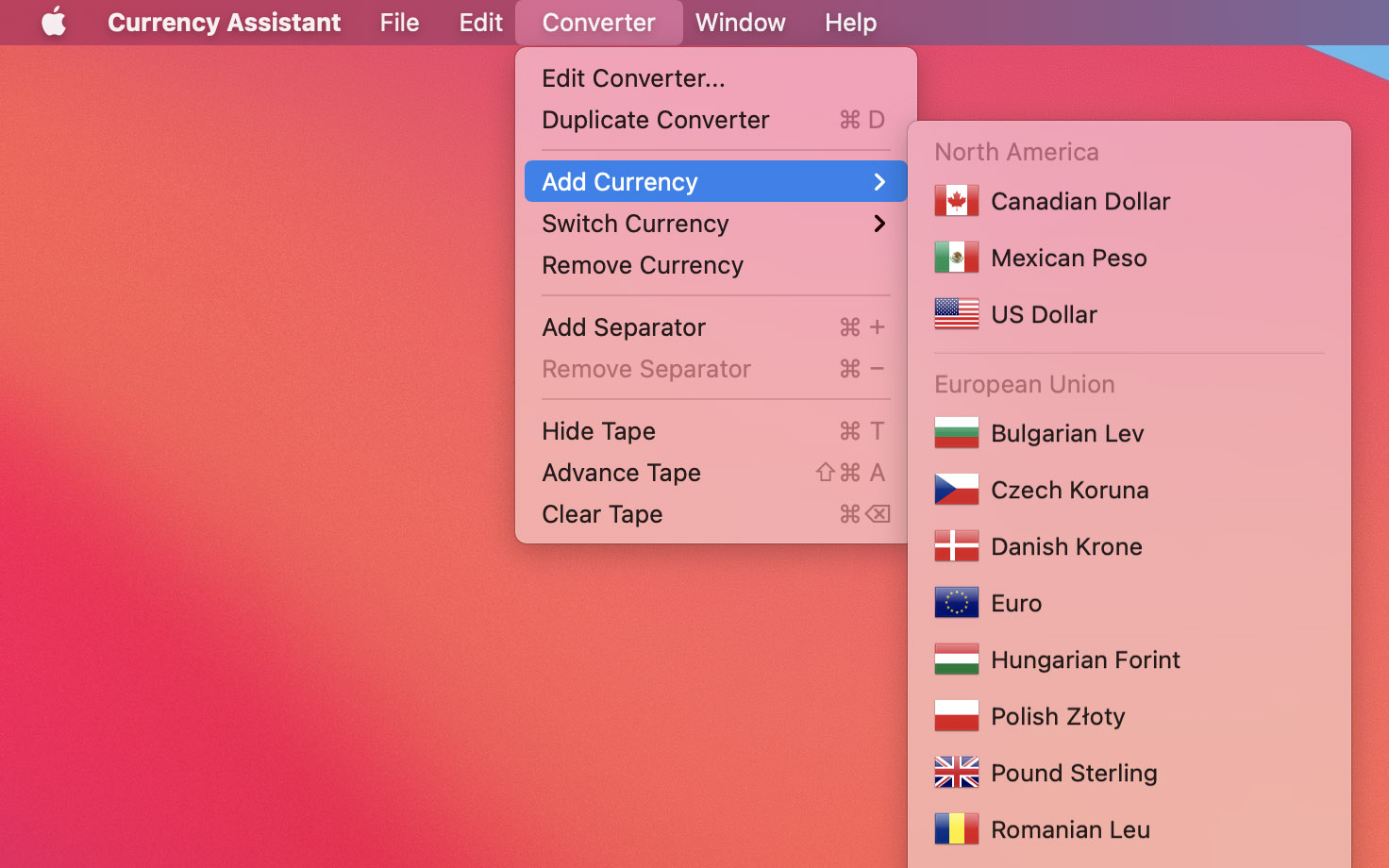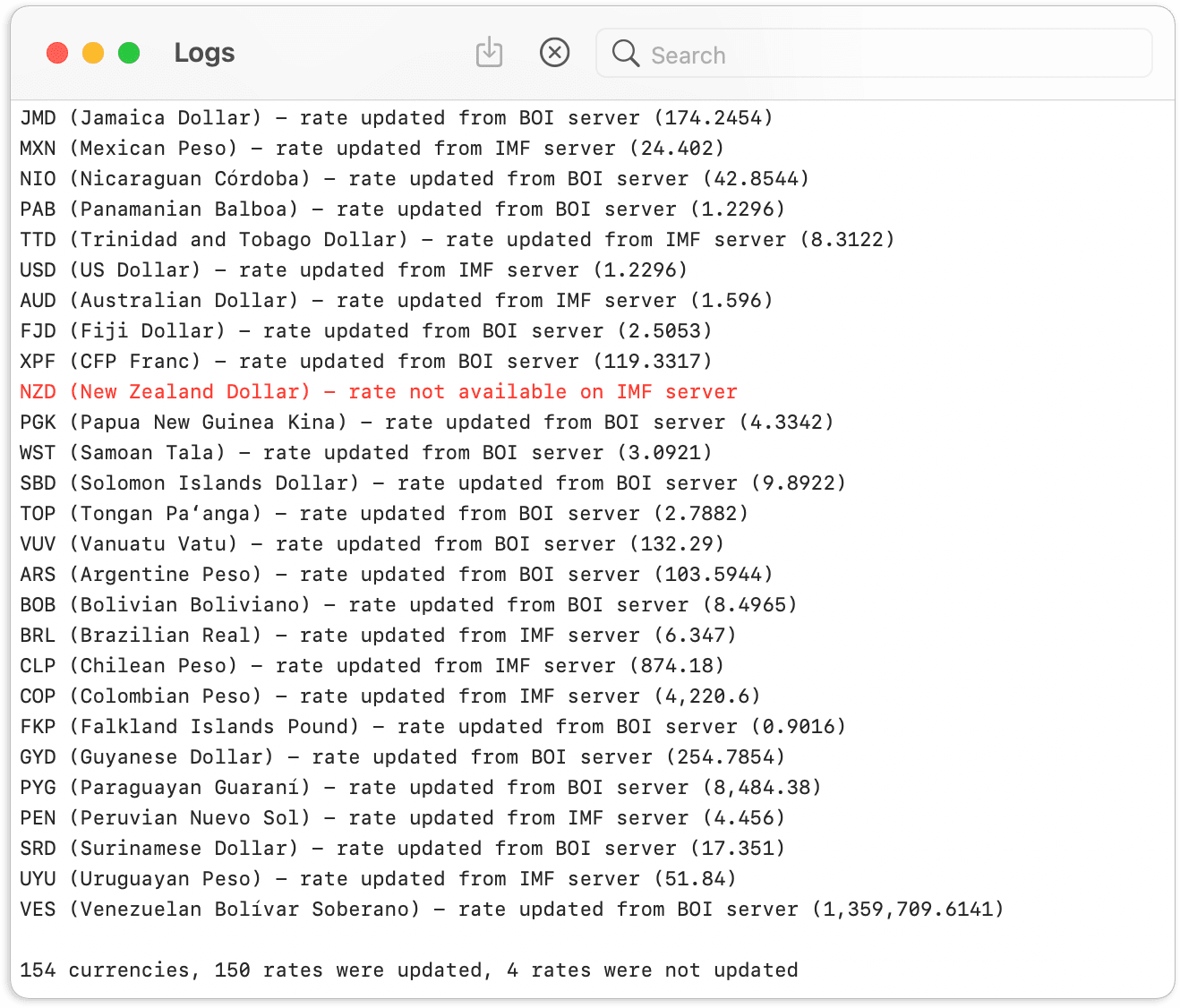 Currency Assistant updates exchange rates over the Internet using the rates published by the European Central Bank, the International Monetary Fund, and the Bank of Italy. Rates can be updated automatically when you open Currency Assistant or manually just when you need it.
When exchange rates are updated, the Log window lets you easily find out whether any rates could not be updated and why.
Work with results: copy, save, and print conversions.
Currency Assistant lets you easily export conversion results to other applications. You can copy amounts from displays or from the tape. You can export conversions by dragging them from the tape to a document in another application. You can save the tape to a RTF file or plain text file. When dragging or saving conversions you can choose between five different formats (standard, single line, and three table formats).
Using Copy Special commands, you can also quickly copy frequently used text snippets containing conversion results, ISO codes, currency names and symbols.
Finally, Currency Assistant lets you print the tape and allows you to highlight specific currencies in red, green, or blue in printouts.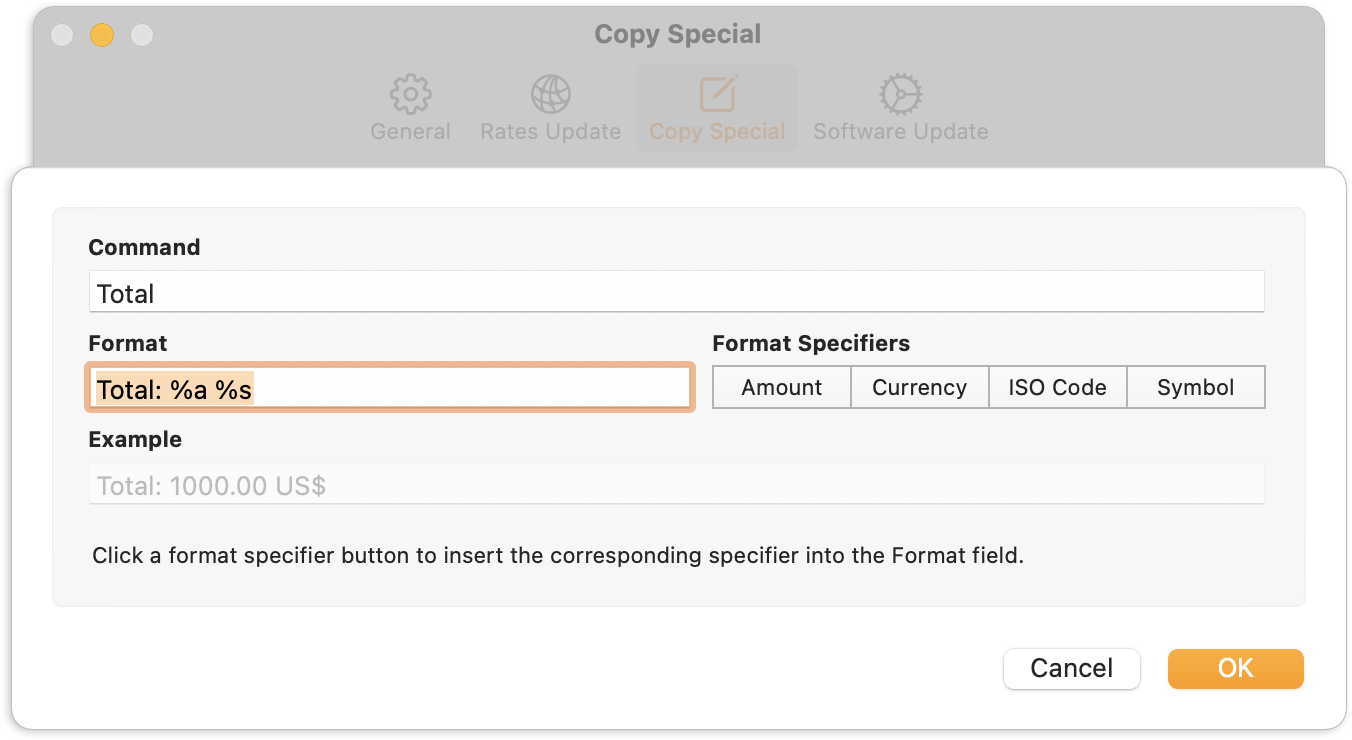 Convert between 174 world currencies (all major circulating currencies plus the 20 Eurozone legacy currencies)
Automatically update exchange rates over the Internet using the rates published by the European Central Bank, the International Monetary Fund, and the Bank of Italy
Easily create as many converters as you need
Calculate multiple conversions (converters can contain up to 24 currencies)
Quickly convert series of amounts by pasting multiple values at the same time
Import and automatically convert series of amounts stored in files
Calculate and convert the result of expressions
Log, copy, save, and print conversion results